Since 2015, Broker Consulting has been offering the opportunity to run a business as part of the OK POINT franchise concept. OK POINT represents the widest array of services available on the real estate, banking and financial markets to our clients. For example, the branch is equipped with an ATM machine with both withdrawal and deposit functions. OK POINT offers the franchisees an opportunity to build long-term stable business. The return on investment is approximately 1 year. OK POINT belongs to the most progressively growing franchise concepts in the Czech Republic. Over the period of the first three years, over 40 branch locations have opened.
Our OK POINT branches are often accompanied by interesting life stories of our franchisees, whose lives have often been literally changed for the better. One of those stories is the story of the Husáks, a married couple from Brno.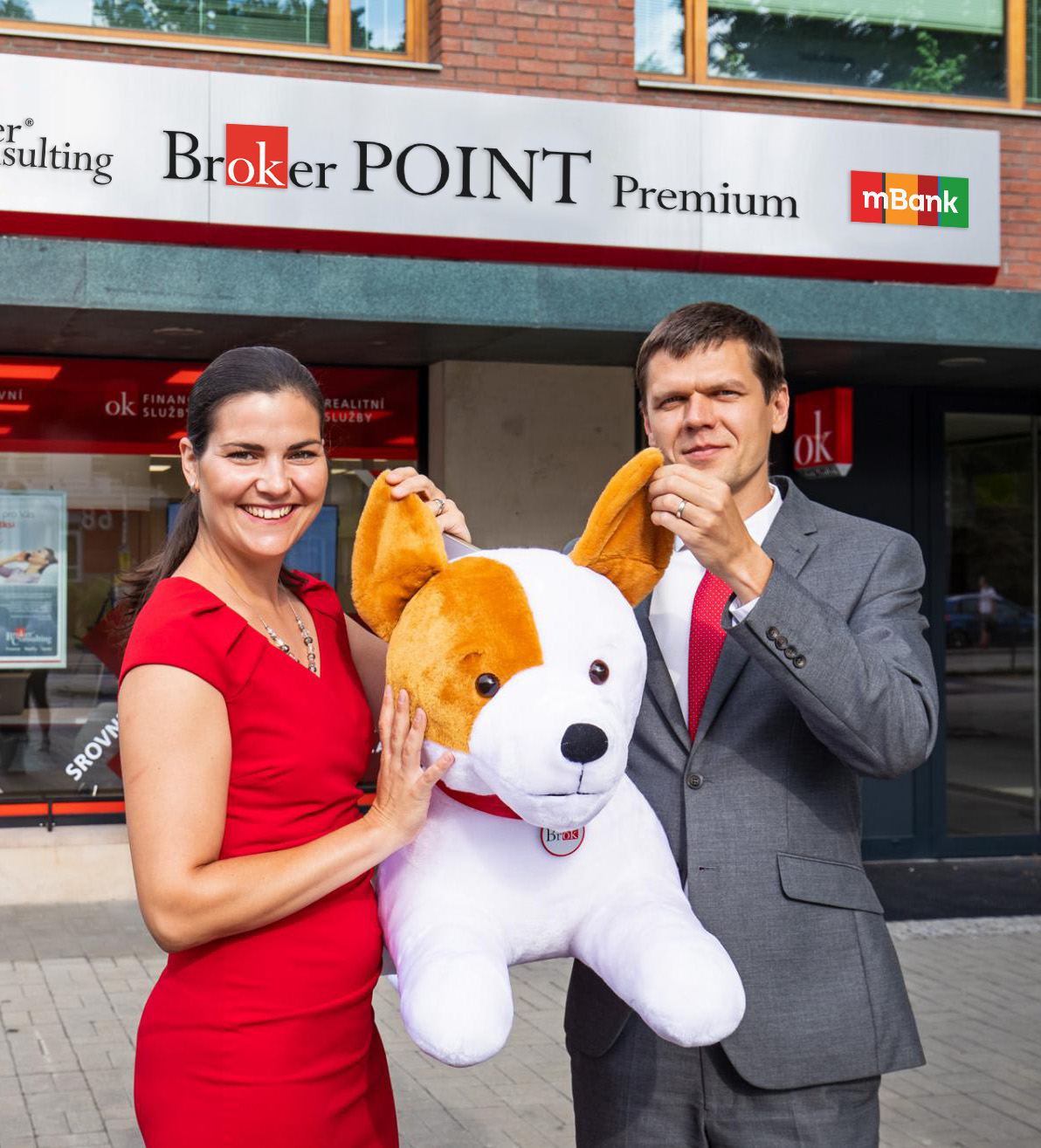 The Husáks
From Corporate World to Freedom
Soňa and Radek Husák became entrepreneurs over night. They both left their previous jobs that did not lead professionally anywhere anymore, and opened their OK POINT franchise business location under the brand of Broker Consulting. They combined their experience of an economic expert and a lawyer, and have been successful at helping their clients with their finances, investments, banking and real estate services. In short, with everything financial planning involves.
Radek Husák was a typical successful corporate manager. "I had built a thirteen-year long career in one global company. I felt that my further progress was being hampered by the fact that my professional growth was decided by other people. At the moment when I was deciding what my next step would be, the opportunity came up to run a branch of the OK POINT franchise network. I did not think twice before I took the opportunity", Radek Husák remembers. Radek was drawn by the sector of finances; he was long before privately interested in investing. It was precisely the opportunity to deal with investments on a professional level while making use of his experience that captured his interest. He got his wife Soňa thrilled about the franchise as well; she used to work as a lawyer at the Land Register in Brno before.
"My husband and I had no experience running our own business, and that is why we decided to go with the franchise model. Transforming an employee into an entrepreneur is not an easy process. However, co-operation with a strong franchiser showed us the direction in which we had to go, set up rules and helped us with all the legal requirements. Suddenly we had everything we needed to run our business, from IT systems, special products and marketing to training."
The initial investment needed to open a franchise location is one and a half million crowns; Broker Consulting can provide help with financing. The return on investment is approximately within one year. Frequently, people interested in opening an OK POINT are entrepreneurs or corporate managers who have reached a certain point in their careers and are looking for an adequate way to realize their potential further more.
Radek Husák adds: "We opened the Brno OK POINT at Vídeňská in mid 2017, we have already recovered all of our investment (fall of 2018) and we have been doing better and better since. Today, I feel like a legitimate entrepreneur that will likely never become an employee again."